Home
Academic Accolades
Doswell Named 2019 Woman of Excellence
Willa Doswell, associate professor in the School of Nursing, has been named a 2019 Woman of Excellence by the New Pittsburgh Courier.
Gobat Honored for Best Book
History Professor Michel Gobat has been recognized by the American Historical Association with the Friedrich Katz Prize.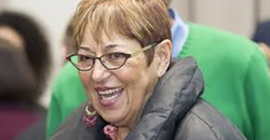 Derricotte Receives Award from Modern Language Association
Toi Derricotte, professor emerita in the Department of English within the Kenneth P. Dietrich School of Arts and Sciences, has been recognized by the Modern Language Association with its Phyllis Franklin Award for Public Advocacy of the Humanities.