The 3MT competition celebrates the exciting research conducted by Doctor of Philosophy (PhD) students. Developed by The University of Queensland (UQ), 3MT cultivates students' academic, presentation, and research communication skills. The competition supports their capacity to effectively explain their research in three minutes, in a language appropriate to a non-specialist audience.
Participants, organizers, and judges from the 2018 3MT Pitt Competition.

The 2018 event was held April 9, 2018, in the Digital Scholarship Commons at Hillman Library and was co-sponsored by the Office of the Provost and the University Library System.
2018 Eligibility Guidelines
The program is open to PhD students who have successfully completed the dissertation proposal defense (PhD candidate status) and are actively in the dissertation stage of training are eligible. To become a finalist in the 2018 Pitt Competition, students were required to have:
Placed in a school-level competition:

The Dietrich School of Arts and Sciences competition, held April 6, 2018;
The School of Computing and Information competition, held on April 4, 2018; or

Students not in the Dietrich School or the School of Computing and Information, could enter the online competition by recording their 3MT presentation and submitting the video presentation. Finalists of the online competition advanced to the Pitt Competition.
2018 University Competition Winners
First Place Prize—$1,000 travel grant
Katie Wozniak
Biological Sciences, Dietrich School of Arts and Sciences
Signaling mechanisms of the fast polyspermy block in Xenopus laevis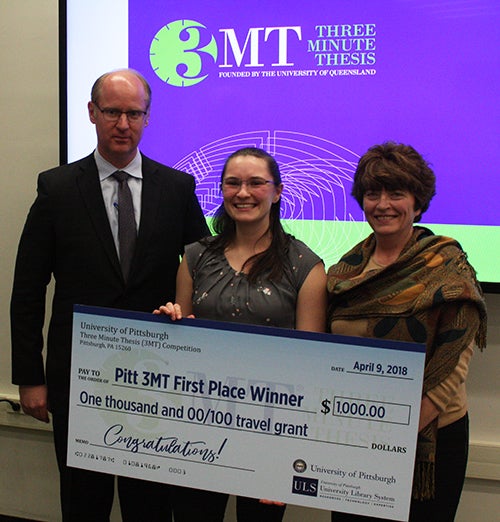 Biological Studies student Katie Wozniak won the first place prize in the 2018 3MT Competition.
Two Runner-up Prizes—$500 travel grant each
Samuel Allen
Communication, Dietrich School of Arts and Sciences
Comparative Monsterization: A Rhetorical History of the Lives and Exhibitions of Conjoined Twins in the 19th Century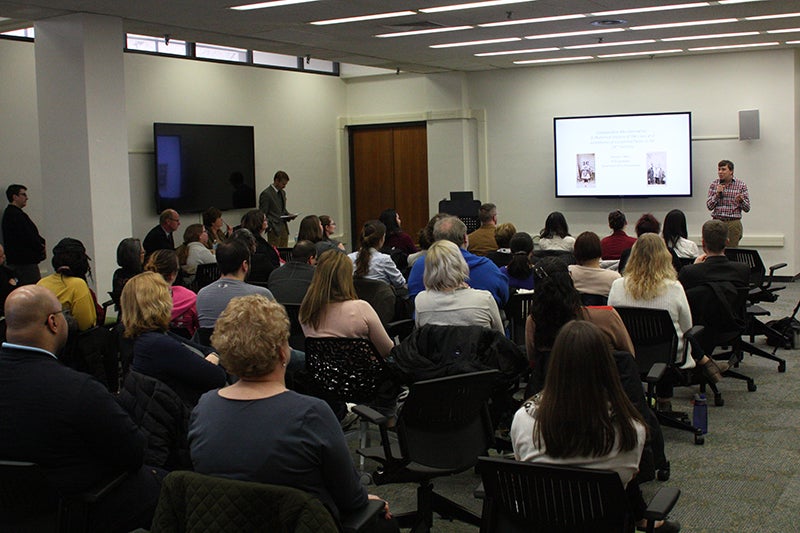 Communication student Samuel Allen was one of two runners-up who received a $500 travel grant.
Nemi Vora
Environmental Engineering, Swanson School of Engineering
Translating Data into Actionable Policy for Sustainable Food Trade in the United States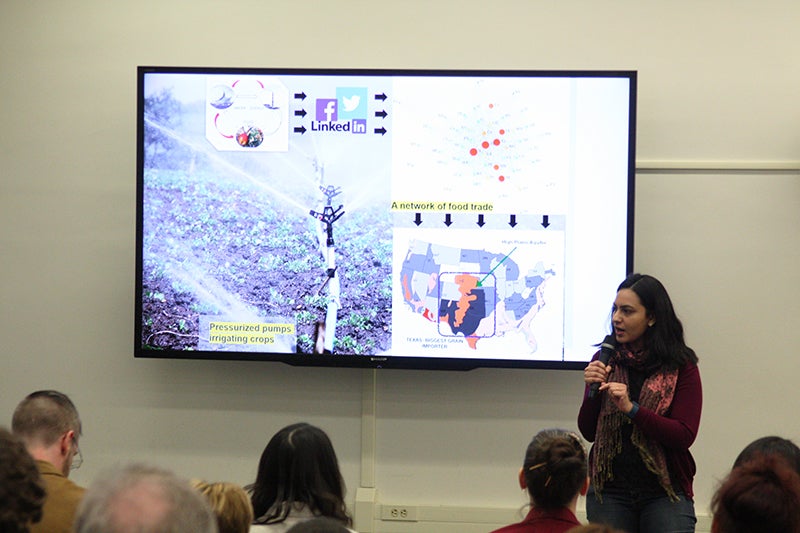 Nemi Vora, Environmental Engineering student, was also awarded a $500 travel grant as a runner-up.
2018 School and Online Competition Finalists
Stephanie Ander 
Microbiology and Immunology, School of Medicine
The Placenta: The Fetus' First-Line of Defense Against Toxoplasma Infection
Yi Han
Economics, Dietrich School of Arts and Sciences
Blame-shifting through Delegation: Evidence from China's one child policy
Tianyu He
Cellular and Molecular Pathology, School of Medicine
Combatting Heart Diseases in HIV Patients
Jay Rickabaugh
Graduate School of Public and International Affairs
Finding the Unique Balance: Local Government Representation on the Boards of Regional Intergovernmental Organizations