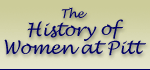 During World War II, the Dean of Women had one day's notice to vacate her offices for the military. The twelfth floor became the temporary headquarters for Pitt's students in uniform. The war brought many changes for the women at home, some of them advantageous. Women were directed into scientific and engineering courses for the good of the country, and good jobs were waiting for them after graduation. After the war most women went back to their traditional roles.
---

---
© 2003 University of Pittsburgh Office of the Provost
---






A New Uniform Appeared on Campus
When the University of Pittsburgh was authorized to organize a unit of the United States Cadet Nurse Corps, 82% of the students in the professional nursing program enlisted. Their uniform was a gray wool suit or overcoat with regimental red epaulets, silver insignia buttons, a sleeve patch with a silver Maltese Cross on a red ground, and an adaptation of the famous Montgomery beret.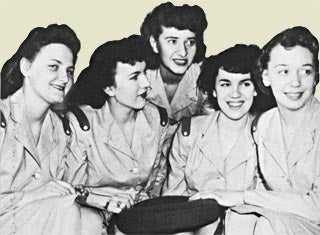 Nursing Students in the cadet summer uniform. The School of Nursing students lived in Gillespie Hall.
". . . some women will go into the armed services, . . . .but none will go into actual combat. Young women . . . need not study in a program as highly technical as the program the men must pursue. They are free to choose. This freedom gives them a peculiar responsibility. They must prepare themselves for war work and at the same time, because they alone can, they must preserve the university ideal . . .the greatest challenge is to keep alive the meaning of culture, the love of study for its own sake, and the search after truth. College, therefore, takes on a new meaning for women in wartime."

Helen Pool Rush, Dean of Women, 1943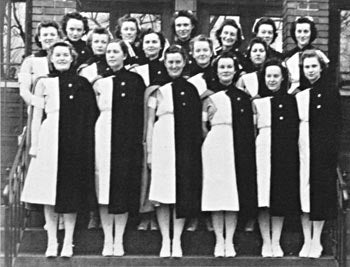 The University School of Nursing, graduating class of 1943. The Pitt Nursing School, established in 1939, expanded its program in response to the "all out" call that swept the nation for more graduate nurses for supervisory and teaching positions.