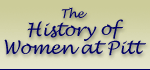 WUP Becomes Pitt
October 2, 1908
The Western University of Pennsylvania announced a new name, the University of Pittsburgh. The change ended confusion with the University of Pennsylvania and jokes about "WUP," an undignified nickname for a university.
June 9, 1909
The university moved to Oakland after 19 years on Observatory Hill. More accessible and attractive for students, Oakland was already recognized as the cultural and educational center of the city. The Carnegie Institute and Museum opened in 1896, and Carnegie Institute of Technology (now Carnegie Mellon University) opened in 1905.
The School of Education
A Haven for Women Students
In 1910, shortly after the move to Oakland, Pitt opened the School of Education. For a university looking for more students and increased revenue, this was a wise choice. Women flocked to the new program. The number of women students at Pitt jumped from about 40 to over 300 in the first year. Teacher training continued to be an academic haven for women students for more than 60 years.

---
State Hall opened on June 9, 1909.

Next: College Life: 1910-1919
---
© 2003 University of Pittsburgh Office of the Provost
---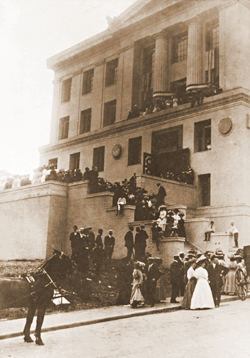 The first graduating class
of the School of Education, 1911. From 1900 to 1920, the number of Schools of Education in U.S. colleges and universities grew from about 30 to almost 500.
After completion of
State Hall
(the site of the present Chemistry Building), and Thaw Hall for engineering in 1909, the
medical and dental
schools moved to new campus buildings in rapid succession.