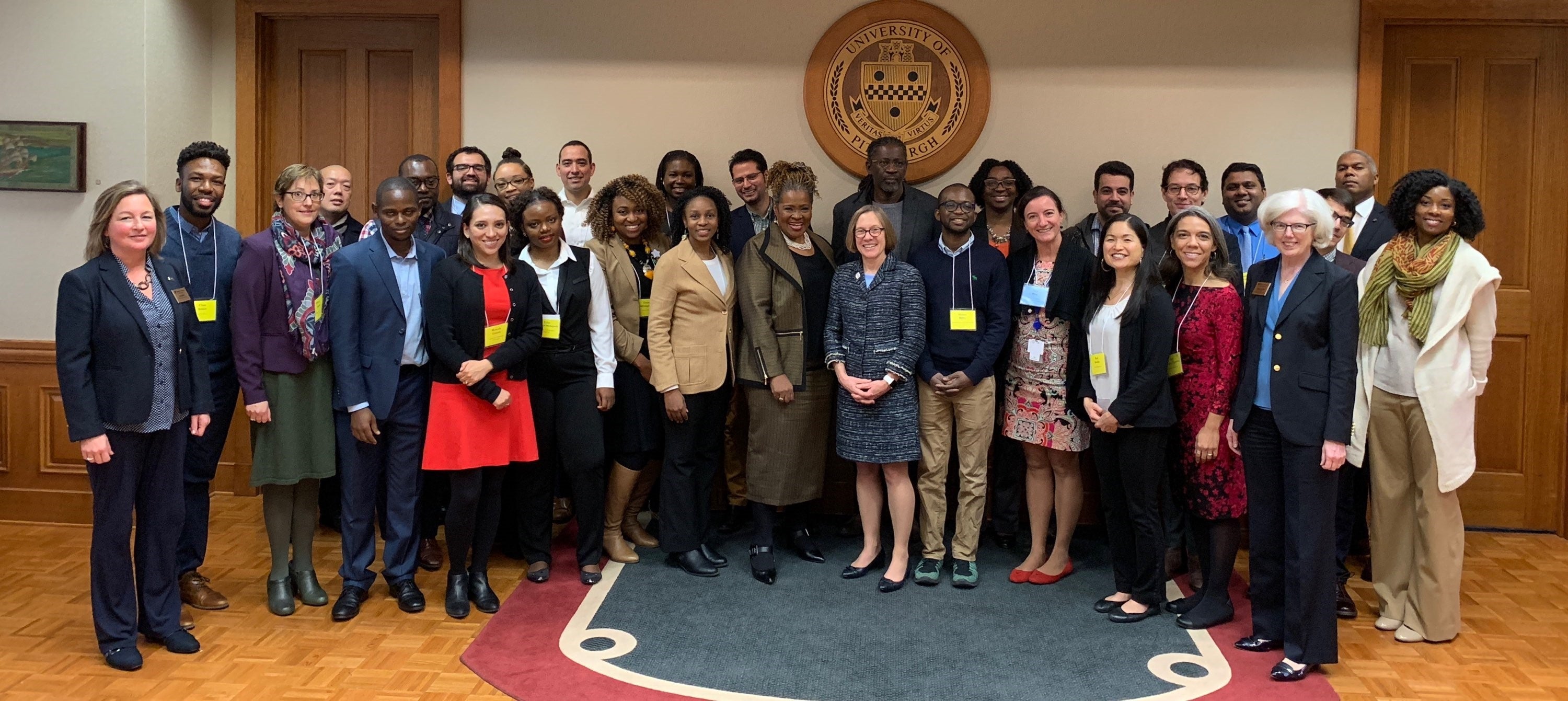 Faculty play a central role in the University of Pittsburgh, and the Office of the Provost provides a number of professional development opportunities to promote faculty success at Pitt. A wide variety of faculty development workshops, centers, and additional resources are available to faculty for career and professional development through the Office of the Provost and the University Center for Teaching and Learning.
New Faculty Orientation
An orientation is held each fall to welcome new full-time faculty to the University of Pittsburgh. New Faculty Orientation is designed to provide new faculty with the information they need to strengthen their connection to the greater University community and to have a successful start at Pitt.
Orientation for New Part-Time Faculty
To supplement the orientation provided by academic units to new part-time faculty, a University-level orientation for new part-time faculty was created in the 2019-2020 academic year.  The orientation for new part-time faculty is designed to provide participants with information about University resources available to part-time faculty as well as specific information needed to be successful in their roles.  The Orientation for New Part-Time Faculty is held twice a year, at the beginning of the Fall term and at the beginning of the Spring term.
Learning Essentials
Learning Essentials is a year-long faculty learning community for to support new faculty as they transition to Pitt. The program consists of monthly lunch meetings, in which junior faculty members will be able to connect with more experienced colleagues on teaching issues. Classroom observations and one-on-one feedback sessions will also be offered. More information is available at the Teaching Center.
Faculty Development Workshops
First Monday of the Month Faculty Development Workshops and other professional development workshops are offered by the Office of the Provost throughout the year to facilitate productive and rewarding academic careers for all faculty. These workshops, focusing on a wide variety of topics of interest, are held over lunch on the first Monday of each month during the academic year. Previous workshops have included "Using Career Coaching to Help Faculty Advance through the Ranks"; "Effective Faculty Performance Reviews"; "Negotiation Tips, Skills, and Strategies for Academic Leaders"; "Overview of the Tenure and Promotion Process"; "Me? Bias?" and many more.
View the list of current professional development workshop information and registration.
View a list of past workshops, as well as recordings of these workshops.
Writing Groups
Writing Groups are an initiative that began as a pilot program in 2017 from Pitt's participation in IDEAL-N: Institutions Developing Excellence in Academic Leadership, a project led by Case Western and supported by funding from NSF. This voluntary writing program is open to faculty at all University of Pittsburgh campuses and all ranks. It provides a space for interested faculty to meet weekly for a two-hour block that is dedicated solely to research endeavors.
National Center for Faculty Development and Diversity (NCFDD)
In 2018, Pitt became an institutional member of the National Center for Faculty Development and Diversity (NCFDD), a nationally recognized, independent organization that provides online career development and mentoring resources for faculty, post-docs, and graduate students. It provides a variety of virtual programs and resources including multi-week courses; core curriculum webinars; guest expert webinars; private discussion forums for peer-mentoring, problem solving, and moderated writing challenges; and access to NCFDD's extensive member library.
Center for Mentoring
The faculty of the University of Pittsburgh is one of the University's greatest assets. The Center for Mentoring serves as a central resource to support professional excellence by encouraging growth and development of faculty as teachers and scholars. By learning how to be effective mentors and mentees, faculty can strengthen their professional interactions and connections with students, helping to prepare them for success at Pitt and for lives of impact beyond campus.
Center for Communication
The Center for Communication is housed in the University Center for Teaching and Learning. It exists specifically for faculty and graduate students and offers a range of resources and services related to effective communications. These include workshops on improving presentations, poster sessions, and videos; feedback on writing (for grants and teaching portfolios); coaching on presentation skills for different audiences; and guidance on speaking with the press about research. The Faculty Writing Groups are also coordinated through the Center for Communication.
Institutional Mentoring Program Across a CommuniTy of Color (IMPACT)
Sponsored by the Office of the Provost, the Institutional Mentoring Program Across a CommuniTy of Color, IMPACT, is a program for faculty of color focused on networking, mentoring, and community building. Deans and regional campus presidents nominate new (and junior) faculty of color to participate in this program. Small groups of new faculty are assigned to senior faculty members who serve as mentors throughout a two-year period. Mentors are trained using an evidence-based mentor-training program. The mentors are career mentors, not intended to replace any other mentoring that the junior faculty may receive through their departments or other sources.
IMPACT includes a welcoming event in the fall term, and each mentor-mentee group meets on a regular basis for mentoring and community building.  The Office of the Provost also sponsors additional professional development opportunities and networking events for the IMPACT cohort. 
A new IMPACT cohort is launched every other year.  The call for nominations is issued in early Fall.