Being successful in the Flex @ Pitt model means giving it your all! The following strategies for success will help you to be fully engaged this semester by showing commitment and effort in every class.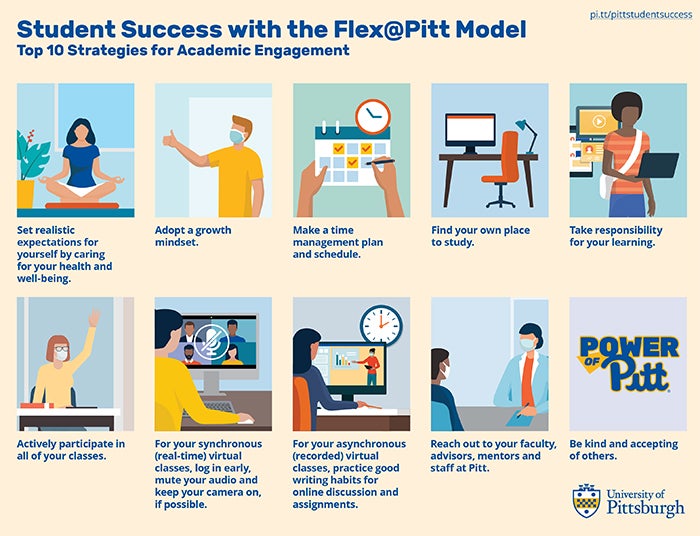 Click image above to view and download the Top 10 Strategies for Academic Engagement PDF.

1. Set realistic expectations for yourself that things might look a little different (every day). Take breaks and continue to care for your health and wellbeing.
2. Adopt a growth mindset. Embrace change, learn from your mistakes, be open-minded, and have confidence in yourself.
3. Make a time management plan and schedule that you can follow with dedicated time for studying.
4. If possible, find your own place to study in a separate area with plenty of room and limited distractions like interruptions and noise.
5. Manage and take responsibility for your learning by taking an active role.
6. Actively participate in all of your classes by attending every day, engaging in course activities and completing your assignments on time.
7. For your synchronous (real time) virtual classes, it is important to log in early, check your technology, mute your audio, and keep your camera on, if possible.
8. For your asynchronous (recorded) virtual classes, it is important to manage your time and practice good writing habits for online discussion and assignments.
9. Reach out to your faculty, advisors, mentors, and staff at Pitt—we are here to help and answer your questions.
10. Be kind and accepting of others. Together we can get stronger. Together we will get through this.