Following the October 27, 2018, tragedy at Tree of Life Synagogue, the University of Pittsburgh remains committed to providing ongoing opportunities for dialogue that promote acceptance and inclusion. Various programs have offered the opportunity to continue the important work of building a Pitt community that stands united against ignorance, intolerance, and hatred. 
Collaboratory Against Hate 
In March 2021, the University of Pittsburgh and Carnegie Mellon University announced the joint launch of a new center to study extremist hate. Scholars at both universities will partner through the Collaboratory Against Hate—Research and Action Center to develop effective tools that inhibit hate's creation, growth and destructive consequences.
The center will bring together the collective expertise from all relevant disciplines—including computer science, data science, social sciences, psychology, psychiatry and the law—as collaborators seek to better understand and combat hatred based on race, ethnicity, religion, gender identity, sexual orientation and other prejudices.
Read the Collaboratory Against Hate Annual Report, March 2021-April 2022, which includes all the activities of the Collaboratory from the past year. 
Related News Stories
---
Read
---
Past Events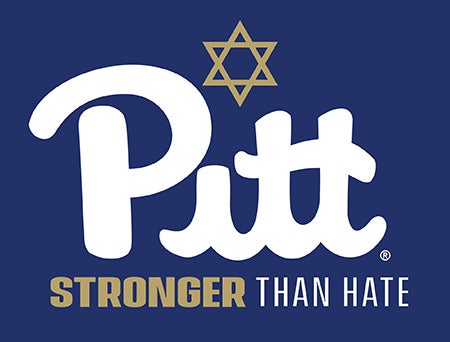 Lest We Forget: A Tribute to Holocaust Survivors
A Holocaust Remembrance Project by Luigi Toscano
Oct. 18–Nov. 15, 2019
Outdoor pathways between Cathedral of Learning and Heinz Memorial Chapel
This art installation of 60 life-size portraits of Holocaust survivors—including 16 from the Pittsburgh area—serves as both a powerful reminder of history and a compelling message about the University's commitment to combating hatred of all kinds.
The exhibit comes to Pittsburgh at a time of remembrance for our community, as October 27 marks one year since the Tree of Life synagogue in the Squirrel Hill neighborhood was the site of the largest antisemitic attack in United States history.
Read about Lest We Forget in @Pitt »
Read more about Lest We Forget in the Pittsburgh Post-Gazette »
Visit the Lest We Forget project website »
---
To Those Who Grasp It: Responding to October 27
Oct. 26–Dec. 6, 2019
Wesley W. Posvar Hall, 3702 (Department of History)
Six undergraduate students at the University of Pittsburgh gathered to create an exhibit that highlights student voices in response to the October 27, 2018, mass shooting at the Tree of Life synagogue and its aftermath.
---
Antisemitism, Hate and Social Responsibility Conference
Nov. 10, 2019 - 10 a.m–9 p.m.
Nov. 11, 2019 - 11 a.m–5 p.m.
Rodef Shalom Congregation, 4905 Fifth Avenue
Hosted by Classrooms without Borders
The conference will feature lectures by renowned scholars and workshops that will equip teachers to educate and inspire their students to identify and combat hate, antisemitism and racism. This conference is geared towards academia, educators, spiritual leaders, students, and interested community members.
---
2019 CRSP Summer Institute: Race and Hate Crimes — And What We Can Do About It
June 26, 2019
8 a.m.–3 p.m.
Cathedral of Learning Room 2017
Workshops, networking, and a panel discussion will help empower participants to combat hate in their communities. The event will feature Tree of Life Rabbi Jeffrey Myers as keynote speaker, as well as a panel discussion with activists and local community stakeholders.
---
Antisemitism Then and Now: Perspectives after Tree of Life
A new one-credit course and lecture series available for the spring 2019 term
Wednesdays, January 23–April 24, 2019
Noon–12:50 p.m.
1502 Posvar Hall
Students wishing to receive credit should register for JS1649 | CRN32480 by January 18. Unregistered students, faculty, and staff are encouraged to attend any of the lectures. Space is limited and priority will be assigned to registered students. View schedule »
Lectures by:
Adam Shear, Religious Studies
Rebecca Denova, Religious Studies
Hannah Johnson, English
Michal Friedman, Carnegie Mellon University, History
Rachel Kranson, Religious Studies
Irina Livezeanu, History
Lina Insana, French and Italian
Lauren Bairnsfather, Holocaust Center of Pittsburgh
Jae-Jae Spoon, Political Science/European Studies Center
Kathleen Blee, Sociology/Dean of the Deitrich School of Arts and Sciences
Offered by the Jewish Studies Program with the cooperation of the European Studies Center, Department of Religious Studies, Department of History, and the Center for Russian, East European, and Eurasian Studies. Made possible through the generous support of the EU.
---
Working Together to End Hate
February 26, 2019
6:00 p.m.
Heinz History Center
Join the Pittsburgh Post-Gazette as experts assemble to discuss the prevalence of hate crimes in America, the resulting challenges to law enforcement personnel, and potential solutions to this problem. The panel discussion will be moderated by Post-Gazette Executive Editor Emeritus David Shribman. The event is free and open to the public.
Panelists include:
Esther Bush, President and CEO of the Urban League of Greater Pittsburgh  
David Hickton, Founding Director, Pitt Cyber and Former U.S. Attorney  
Tony McAleer, Co-founder and Board Chair of Life After Hate
Roy Austin, Former Deputy Assistant Attorney General, Civil Rights Division, U.S. Department of Justice
Michael Lieberman, Director, Civil Rights Policy Planning Center of Anti-Defamation League
Read the Pittsburgh Post-Gazette article published after the event »
---
Week When We're Stronger Than Hate
University of Pittsburgh at Titusville
Events are free and open to the public
Walk Against Hate
January 21, 2019, 4 p.m.
Starting at Boomer's Café in the McKinney Student Union
Participants will walk from Boomer's Cafe to the Episcopal Church, making stops along the way at Titusville High School and the YWCA. Each stop will feature a presentation and group discussion about a particular topic, including racism, stereotypes, happiness, and religious tolerance and understanding.
Hate Has No Home Here
January 24, 2019
This project, created in a Chicago neighborhood in 2016, strives to counter hate and intolerance by sharing positive messages and designating safe places for conversation, work, learning, and living. Pitt-Titusville students will distribute "Hate Has No Home Here" posters in the community and sign a banner on campus to declare that hate has no home at Pitt-Titusville.
The Social Practice of Human Rights and Sustainable Global Development
January 24, 2019, 7 p.m.
Boomer's Café in the McKinney Student Union
Dr. Paul Nelson, associate dean of the University of Pittsburgh's Graduate School of International and Public Affairs, will give a presentation addressing the intersection between human rights advocacy and sustainability initiatives, two of his research areas.
Stronger Than Hate T-Shirt Distribution
January 26, 2019
During the Pitt-Titusville men's and women's home basketball games the Student Activities Board will distribute free "Stronger than Hate" T-shirts to Pitt-Titusville fans while supplies last.
Find additional details in the original announcement »
---
Messages of Hope for the Holidays
December 10, 2018 – January 3, 2019
Monday–Thursday, 9 a.m.–8 p.m.
Friday–Saturday, 9 a.m.–10 p.m.
Sunday, 10 a.m.–4 p.m.
Forbes Digital Plaza, corner of Forbes Avenue and South Bouquet Street, Oakland
Messages of Hope for the Holidays is an art installation initiated by University of Pittsburgh psychology major Alana Castle in response to the tragedy at the Tree of Life Synagogue earlier this year. It is a collection of heartfelt messages from students in Oakland to the community. On display through early January.
Read the Pittwire article about the project »
---
Community Conversation: Anti-Semitism in America
December 13, 2018
6:00 p.m.–7:00 p.m.
Heinz Field, Hyundai Club (West Club)
The Pittsburgh Post-Gazette is hosting a community conversation centered on anti-Semitism in America and the implications for American Jews and the Pittsburgh community. Post-Gazette Editor David Shribman will moderate the discussion with a panel that includes:
Dr. Kathleen Blee, Dean, Dietrich School of Arts & Sciences, University of Pittsburgh, and member, Congregation Dor Hadash
Deborah Lipstadt, Author, Denying the Holocaust and Antisemitism Here and Now, and modern Jewish history professor, Emory University
Rabbi Jeffrey Myers, Rabbi at Tree of Life *Or L'Simcha Congregation
Joshua Sayles, Director of Community Relations, Jewish Federation of Greater Pittsburgh
Read the Pittsburgh Post-Gazette article published after the event »
---
Reflections on the Tree of Life Synagogue Attack: A Panel of Scholars Discuss Anti-Semitism, Racism, Hate Crimes, and Organized Hate
and
From Analysis to Action: Building Bridges, Championing Change
December 3, 2018
2:00 p.m.–4:30 p.m.
2500 Posvar Hall
The Kenneth P. Dietrich School of Arts and Sciences and the School of Law are partnering for an event open to all faculty, staff, and students to address the systemic issues that contribute to acts of violence against minority, marginalized, and stigmatized populations.
The program will begin with a one-hour panel discussion: "Reflections on the Tree of Life Synagogue Attack: A Panel of Scholars Discuss Anti-Semitism, Racism, Hate Crimes, and Organized Hate." Panelists include Dean Kathleen Blee and Professors William Carter, Vivian Curran, and David Harris. The panel will be introduced by Pitt's Vice Chancellor for Diversity and Inclusion, Pamela Connelly, who will also moderate a Q&A immediately following the panel.
For those who can stay, the program will continue at 3:00 with a 90-minute "speed networking" session: "From Analysis to Action: Building Bridges, Championing Change," facilitated by Dr. Erika Gold Kestenberg, Diversity, Inclusion, Equity and Justice Consultant. During this activity, participants will have an opportunity to network across a number of discussion groups focusing on Religion-related Bigotry/Anti-Semitism, Islamophobia; Racism/Racial Justice; Immigration; LGBTQIA+ Rights; and Combating Hate Groups. To maximize collaboration, attendees are encouraged to bring information about organizations doing the work in these areas or related programs.