"The University of Pittsburgh is only as strong as the people who carry out its mission and, at Pitt, we have an outstanding faculty.  I am committed to their professional development and success by supporting a number of opportunities for faculty to grow professionally in pursuit of impactful careers as scholars, educators, and researchers.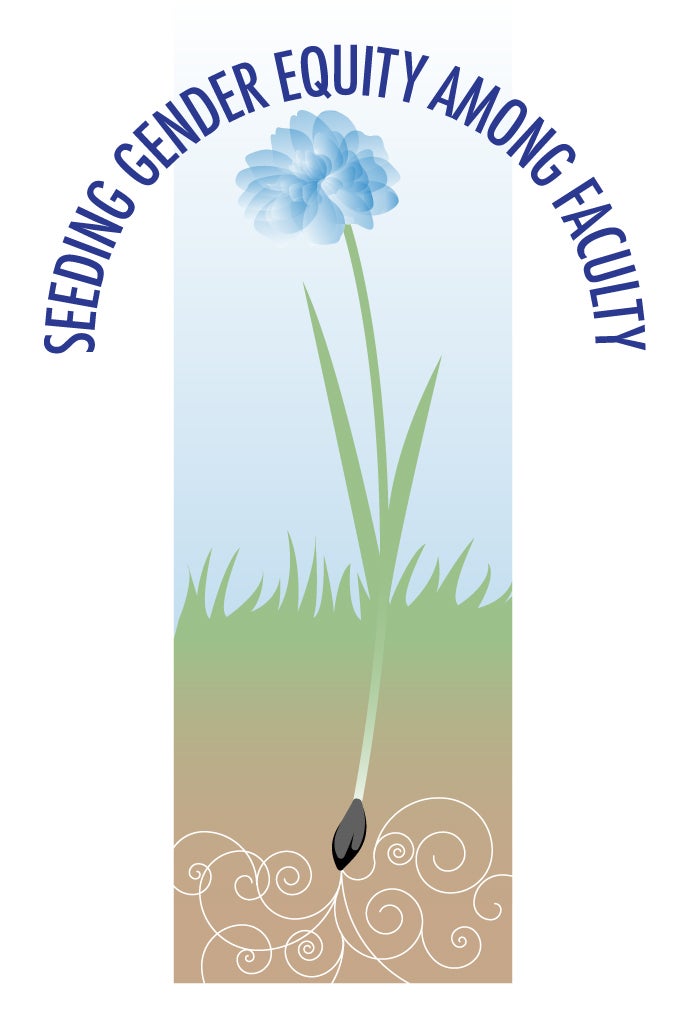 "The IDEAL-N project, funded through an NSF-ADVANCE grant, is one example of an initiative that promotes faculty growth and development.  I am delighted to support Pitt's involvement in IDEAL-N as a partner institution.  The change efforts underway demonstrate a wide range of initiatives to seed gender equity that will provide long-lasting benefits to Pitt's faculty.  Seeds planted today – a family friendly brochure, stronger faculty recruiting processes, an annual celebration of newly promoted women faculty, professional development opportunities for mid-career faculty – will impact our ability to grow and sustain an excellent and diverse faculty.  I look forward to seeing the continued progress of the IDEAL-N project to support and encourage the career advancement of all Pitt faculty."                   
-- Provost Patricia E. Beeson
The University of Pittsburgh is participating in a multi-year change effort called IDEAL-N: Institutions Developing Excellence in Academic Leadership - National. The purpose of IDEAL-N is to seed and institutionalize gender equity transformation by creating a learning community of academic leaders that is empowered to transform university cultures and enhance diversity and inclusion. IDEAL-N is led by Case Western Reserve University and is funded by the National Science Foundation.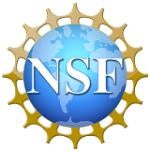 ADVANCE: Increasing the Participation and Advancement of Women in Academic Science and Engineering Careers
"The goal of the NSF-ADVANCE program is to develop systemic approaches to increase the representation and advancement of women in academic science and engineering careers, thereby contributing to the development of a more diverse science and engineering workforce. Creative strategies to realize this goal are sought from women and men. Members of underrepresented minority groups and individuals with disabilities are especially encouraged to apply. Proposals that address the participation and advancement of women with disabilities and of women from underrepresented minority groups are encouraged."
As one of ten academic partner institutions participating in IDEAL-N, Pitt's institutional transformation theme is to encourage and support the professional development and career progression of all faculty, with a particular focus on strengthening the culture for mid-career women faculty at the University of Pittsburgh.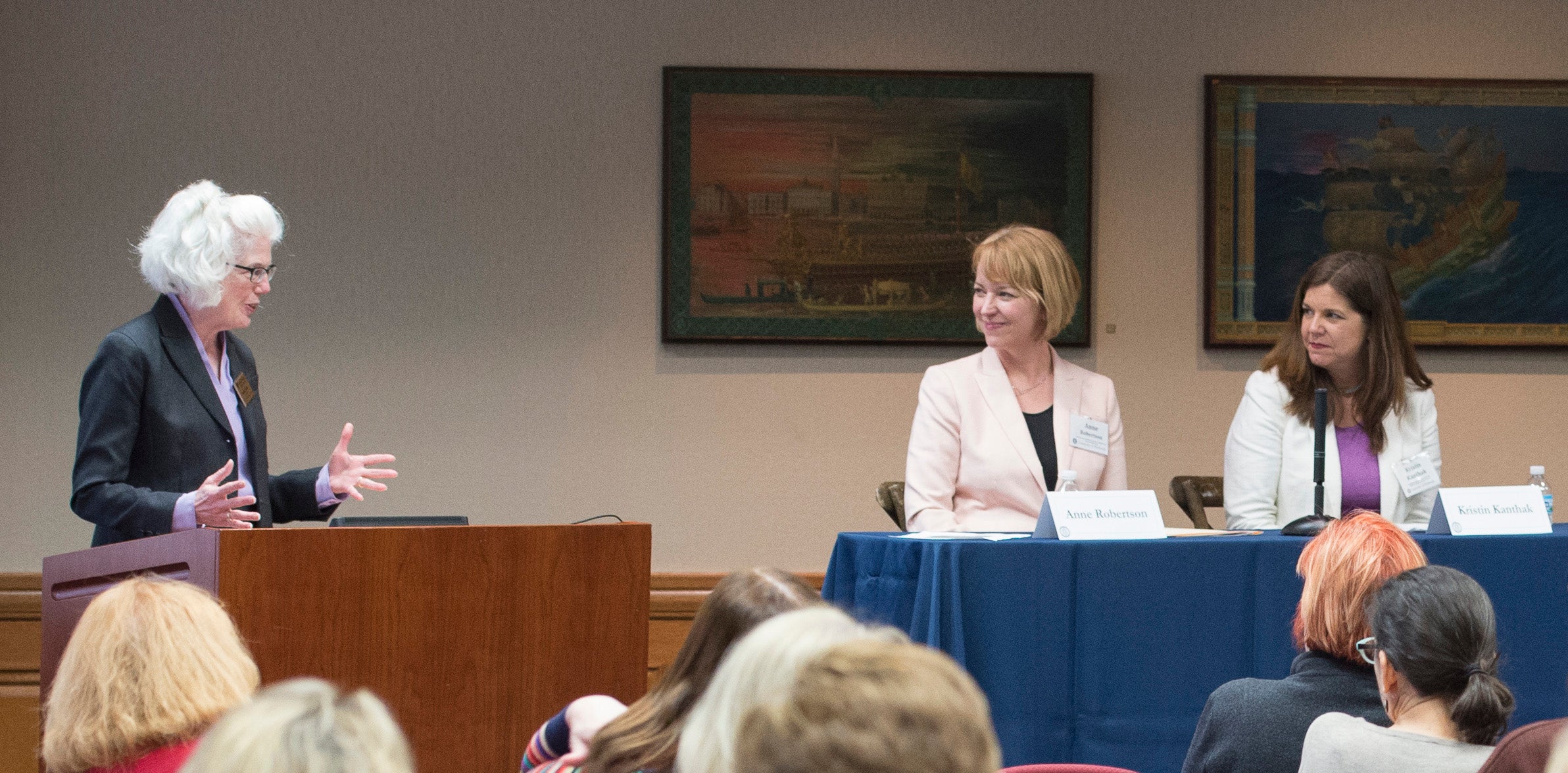 Leading Pitt's IDEAL-N change effort are Vice Provost Laurie Kirsch, Professor Anne Robertson (Swanson School of Engineering), and Associate Professor Kristin Kanthak (Dietrich School of Arts and Sciences)
A number of efforts are underway in support of the professional development and career advancement of mid-career women faculty at Pitt. A presentation on Pitt's project was given at the plenary session, which summarizes the progress to-date.
Leadership
The University of Pittsburgh is committed to women and leadership. "Spotlight on Women Leaders,"  a program created by the Provost's Advisory Committee on Women's Concerns (PACWC), celebrates, shares, and inspires women's leadership across the University of Pittsburgh. The goal is to honor women mentors, role models, and leaders who have dedicated themselves to the advancement of the Pitt community through personal and professional effort. By celebrating a diverse and inclusive group of University of Pittsburgh women leaders – faculty, staff, and students – PACWC hopes to encourage other women to aspire to leadership roles.
Other ongoing efforts provide leadership development opportunities to faculty. PACWC has identified existing leadership programs at Pitt and other resources on leadership. The Office of the Provost also provides professional development programming for faculty interested in administrative roles, who can take advantage of workshops related to academic leadership.
Resources for Faculty Search Processes
The Resource Guide for Faculty Search Processes is a packet of resources that was created to strengthen faculty search processes. It includes "Strategies for Creating a Fair Faculty Recruiting Process" and "Interview Questions in Faculty Searches" to guide search committees in their recruiting efforts and to help build a strong and diverse pool of applicants. The packet also includes a "Sample Candidate Evaluation Sheet" to encourage consistent assessment of all job candidates by all evaluators.
Other resources available to faculty search committees are a PowerPoint presentation and a video recording by Dr. Kathleen Blee (Dietrich School of Arts and Sciences) on implicit bias. Other resources can be found on the PACWC website and the Office of Diversity and Inclusion website.
Family Friendly Programs for Pitt Faculty
The University of Pittsburgh is committed to helping faculty achieve work/life balance and offers a number of benefits, resources and programs that are family friendly. The Family Friendly Programs for Pitt Faculty is a brochure that summarizes programs and resources such as the dual-career hiring program, educational benefits, faculty medical and family leave policy, work/life balance, and more. The brochure can be downloaded and printed.
Mentoring
Many faculty have benefitted from strong mentors, and there are a number of excellent mentoring programs around the University of Pittsburgh.  PACWC has created an inventory of existing programs. The PACWC website also provides information and resources related to strong mentor-mentee relationships and successful mentoring programs.
To enhance mentoring across the University, plans are underway to launch a Center for Mentoring. The Center will be housed in the University Center for Teaching and Learning, and will serve as a central resource to support professional excellence by encouraging growth and development of faculty as teachers and scholars.
Faculty Career Advancement
The IDEAL-N core change team supports many efforts to encourage the professional development and career advancement of mid-career women faculty. The inaugural Celebration of Newly Promoted Women Faculty was held in March 2017 to recognize and celebrate the accomplishments of women faculty across the University.  The event featured a panel of experienced women faculty who offered their perspectives and advice for successful academic careers.
Other initiatives include professional development programming for faculty offered by the Office of the Provost throughout the year. The University Center for Teaching and Learning has launched a Center for Communication to help faculty communicate the significance of their work succinctly and clearly, to their students, the general public, and other audiences.
Writing Groups
Many faculty find that support and accountability can increase their writing productivity. Accordingly, "writing groups" are being formed at an increasing number of academic institutions. Writing groups can take various forms but usually include a small number of people who meet at a specific time and place on a regular basis. The goals of the writing groups vary.  Some groups form to read and critique each other's work. Other groups form as "accountability" groups, asking each person to articulate specific writing goals for the past time period, whether the goals have been met, and goals to achieve for the next time period. Still other writing groups meet simply to be around other writers and to lessen feelings of isolation and loneliness that can plague writers.
In an effort to search for answers to this difficult problem, the Office of the Provost and IDEAL-N have started a pilot program for researchers' writing groups in the fall of 2017. This voluntary writing program is open to faculty at all University of Pittsburgh campuses and all ranks. It provides a space for interested faculty to meet weekly for a two-hour bloc that is dedicated solely to research endeavors. Contact Professor Kanthak with any questions (kanthak@pitt.edu).
COACHE Survey of Full-Time Faculty
As teachers, scholars, participants in shared governance, and the purveyors of institutional culture and history, faculty are essential to the success of academic institutions. For over ten years the Collaborative on Academic Careers in Higher Education (COACHE) at the Harvard Graduate School of Education has surveyed faculty members at more than 250 colleges and universities to understand the themes associated with faculty satisfaction. In 2016, the University of Pittsburgh administered COACHE's Faculty Job Satisfaction Survey to full-time faculty.
The results of the survey suggest there is much to celebrate as a University. They also suggest a few areas to work on and present a roadmap for change. Visit the COACHE website for more information about the results and ongoing efforts to improve the Pitt work environment for all faculty.
Diversity and Inclusion
The Plan for Pitt, the University-wide strategic plan for 2016-2020, includes as one of six major goals, "Embrace Diversity and Inclusion." This underscores the commitment to growing and sustaining a diverse community, as well as recognition and appreciation of the value of diversity in all its forms.
Recent initiatives related to strengthening diversity and inclusion include the Provost designation of 2016-2017 as the Year of Diversity. The Year of Diversity website contains information about news and events for the Year of Diversity. The Office of Diversity and Inclusion sponsors events throughout the year, including book discussions, speakers, and an annual Diversity Retreat; for information about these and other initiatives and resources, please refer to the Office of Diversity and Inclusion's events website.
The annual Provost's Diversity Institute for Faculty Development offers a range of programming to faculty to deepen their teaching practice and develop curricular materials that reflect diversity. The University Center for Teaching and Learning offers additional diversity programming for faculty throughout the year.
Check back often as the core change team identifies other efforts to encourage and support the professional development and career advancement of mid-career women faculty.