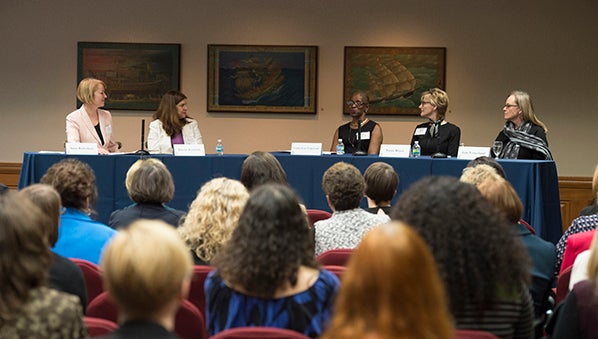 Preparing Pitt faculty to become strong and successful academic leaders, in addition to providing current academic leaders with the tools and resources they need, is a key focus for the Office of the Provost. The Office of the Provost offers a number of new and existing programs and events that are designed to promote and strengthen academic leadership.  
Orientation for New Chairs, Associate Deans, and Vice Presidents
Each year an orientation is held for all new department and division chairs, associate deans, and regional campus vice presidents. The purpose of the orientation is to provide new chairs, associate deans, and vice presidents with information to help them to be successful in their new roles, as well as to provide an opportunity to meet other faculty in similar roles. The orientation is by invitation only.
Retreat for Chairs, Associate Deans, and Vice Presidents
Each year a retreat is held for all department and division chairs, associate deans, and regional campus vice presidents. The purpose of the retreat is to gather and network with this group and to share information about important initiatives around the university. Past retreats have included updates from the Provost and Senior Vice Chancellor, information on strategic planning, updates on initiatives across the University, faculty development breakout sessions, and more. The retreat is by invitation only.
ACC Academic Leaders Network (ALN)
The ACC Academic Leaders Network (ALN) program is an exciting new collaborative leadership program for faculty at ACC institutions. The annual ALN program is designed to support leader development and hone managerial skills for faculty with some academic leadership experience and who aspire to additional leadership roles in higher education. The ALN provides an opportunity for participants to build leadership competency, to build networks and relations across ACC institutions, to deepen understanding of higher education administration, and to broaden awareness of higher education leadership needs and challenges. Academic year 2018–2019 is the inaugural year for the ACC ALN.  

Up to five participants are selected from each ACC institution. Faculty who are currently department or division chairs, associate deans, associate vice provosts, or other similar roles can be nominated by deans and campus presidents for consideration.

The 2018–2019 ACC ALN participants from the University of Pittsburgh are:
Dr. Kay Brummond, Professor of Chemistry, Associate Dean for Faculty Affairs, Dietrich School of Arts and Sciences
Dr. Bruce Childers, Professor of Computer Science, Associate Dean for Strategic Initiatives, Chair of Department of Information Culture and Data Stewardship, School of Computing and Information
Dr. Eleanor Feingold, Professor of Human Genetics and Biostatistics, Senior Associate Dean, Interim Chair of Department of Human Genetics, Graduate School of Public Health
Dr. Adam Leibovich, Professor of Physics, Associate Dean for Faculty Recruitment and Research Development, Dietrich School of Arts and Sciences
Dr. Melissa McGivney, Associate Professor of Pharmacy and Therapeutics, Associate Dean for Community Partnerships, Director of Community Leadership and Innovation in Practice Center, School of Pharmacy
The University of Pittsburgh liaisons to the ACC ALN program are:
Dr. Laurie J. Kirsch, Vice Provost for Faculty Affairs, Development, and Diversity, Office of the Provost
Dr. Doris Rubio, Associate Vice Provost for Faculty, Office of the Provost
Executive Leadership Training (ELiTe)
ELiTe is a program developed for chairs, associate deans, and vice presidents (hereafter referred to executives, for brevity). The program is a nine-month fellowship that includes mentoring and leadership training and project-based learning. Executives will be put in teams of three so they can engage in peer mentoring. A senior faculty member will be added to the team to serve as the "expert mentor." Leadership training will be provided.  In addition, teams will select a University challenge as a project and the teams will meet at least monthly to develop a solution or a set of recommendations.  In May, a forum will be held with the senior leaders at Pitt as well as the teams and key stakeholders. Each team will present their project and proposed solution or recommendations. During 2018–2019, ELiTe will be pilot tested with plans to fully implement the program in 2019-2020.
Women IN Academic Leadership (WIN-AL)
WIN-AL is a program developed for mid-career women faculty who are leaders or aspiring leaders at the University of Pittsburgh. This two-day program will be held once per year at an off-site location. The program is designed for women as they face unique challenges in leadership roles. The ultimate goal is to provide women with the leadership skills necessary to advance in academia and achieve more success in their careers. The conference will be dynamic with presentations, exercises, role playing, team work, self-reflection, and mentoring. Women will be sorted into diverse learning teams so they can have a peer mentoring group beyond the conference. Career coaches will meet with the women in their groups to address career issues. Following the conference, we will continue to engage the attendees by forming Learning Communities and encouraging those groups to meet on a regular basis. In addition, we will host networking opportunities and plan booster sessions. Nominations for WIN-AL will be solicited in the Spring term.