Preparing Pitt faculty to become strong and successful academic leaders, in addition to providing current academic leaders with the tools and resources they need, is a key focus for the Office of the Provost. The Office of the Provost offers a number of programs and events that are designed to promote and strengthen academic leadership.  
Orientation for New Chairs, Associate Deans, and Vice Presidents
Each year an orientation is held for all new department and division chairs, associate deans, and regional campus vice presidents. The purpose of the orientation is to provide new chairs, associate deans, and vice presidents with information to help them to be successful in their new roles, as well as to provide an opportunity to meet other faculty in similar roles. The orientation is by invitation only.
Retreat for Chairs, Associate Deans, and Vice Presidents
Each year a University-wide retreat is held for all department and division chairs, associate deans, and regional campus vice presidents. The purpose of the retreat is to gather and network with this group and to share information about important initiatives around the university. Past retreats have included updates from the Provost and Senior Vice Chancellor, information on strategic planning, updates from the Senior Vice Chancellor for Research, faculty development breakout sessions, and more. The retreat is by invitation only.
ACC Academic Leaders Network (ALN)
** Important Announcement about the ACC ALN for 2020-2021 **
After considering a variety of options for the ACC Academic Leaders Network (ALN) program for next year, the ALN steering committee has made the difficult decision to pause the Academic Leaders Network program for the 2020-2021 academic year due to the impacts of COVID-19.  Therefore we will not be soliciting nominations for Cohort 3 at this time.
Instead, during 2020-2021, the steering committee and liaisons from across the ACC will continue to engage with the current ALN Fellows from Cohorts 1 and 2, and use the time as an opportunity to strengthen the ALN program for future cohorts.  We expect to solicit nominations for Cohort 3 in the spring of 2021 for participation in the AY 2021-2022 ALN program.
Questions can be directed to faculty@pitt.edu.
The ACC Academic Leaders Network (ALN) program is an exciting collaborative leadership program for faculty at ACC institutions who aspire to leadership roles in higher education.  Launched in 2018, the annual ALN program is designed to facilitate cross-institutional networking and collaboration among academic leaders while building leadership capacity for the participating institutions. The ALN provides an opportunity for participants to strengthen leadership competency, to build networks and relations across ACC institutions, to deepen understanding of higher education administration, and to broaden awareness of higher education leadership needs and challenges.

Up to five participants are selected from each ACC institution. Faculty who are currently department or division chairs, associate deans, associate vice provosts, or other similar roles can be nominated by deans and campus presidents for consideration.  Nominations are solicited in late Spring.

ACC ALN participants from the University of Pittsburgh are:
Cohort 2 (2019–2020)
Dr. Valire Carr Copeland, School of Social Work
Prof. Haider Ala Hamoudi, School of Law
Dr. Julius Kitutu, School of Nursing
Dr. Tara Meyer, Dietrich School of Arts and Sciences
Dr. Amy Seybert, School of Pharmacy
Host campuses for Cohort 2:  University of Pittsburgh, Florida State, and North Carolina State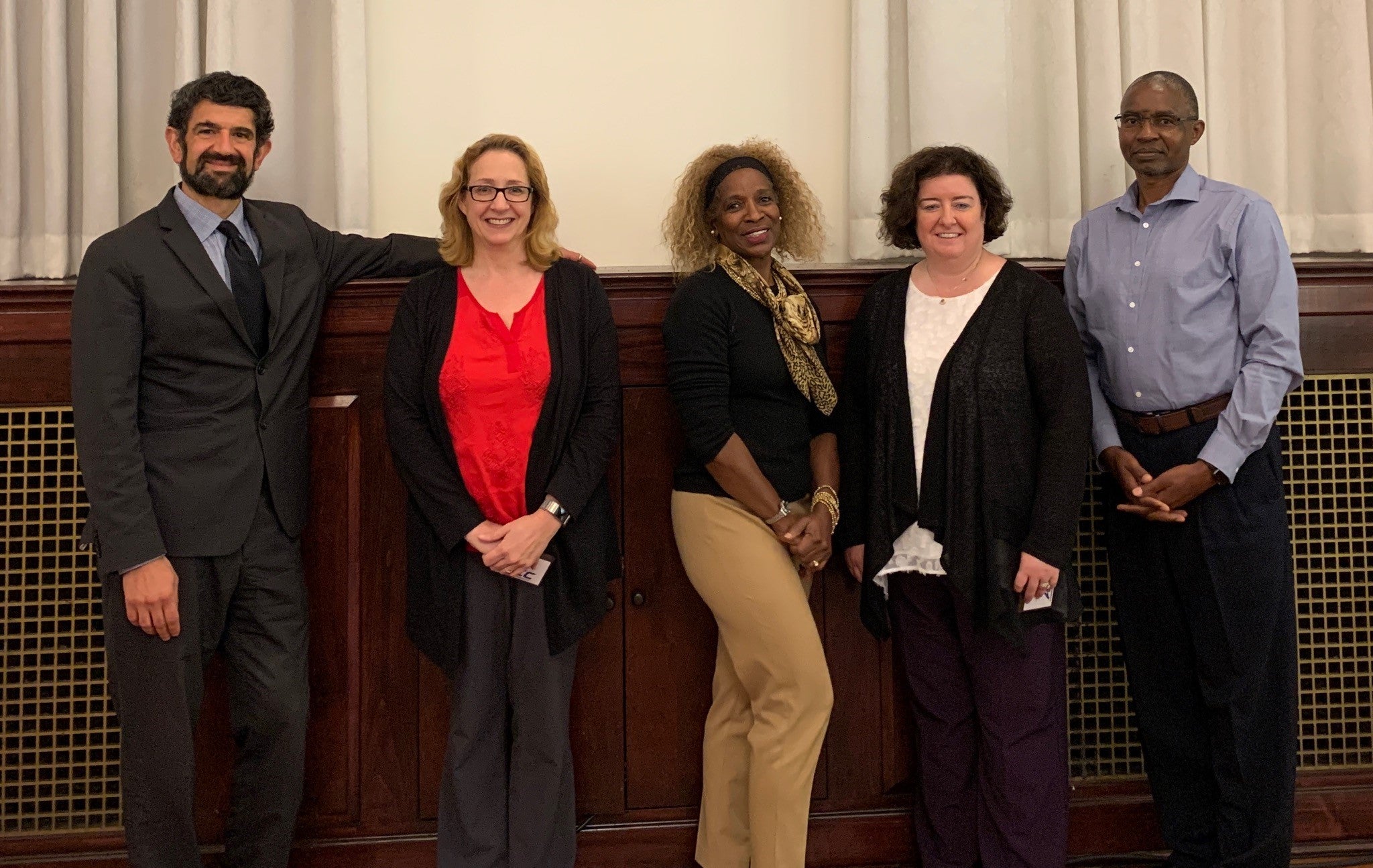 Cohort 2
Cohort 1 (2018–2019)
Dr. Kay Brummond, Dietrich School of Arts and Sciences
Dr. Bruce Childers, School of Computing and Information
Dr. Eleanor Feingold, Graduate School of Public Health
Dr. Adam Leibovich, Dietrich School of Arts and Sciences
Dr. Melissa McGivney, School of Pharmacy
Host campuses for Cohort 1:  Virginia Tech, Georgia Tech, and Notre Dame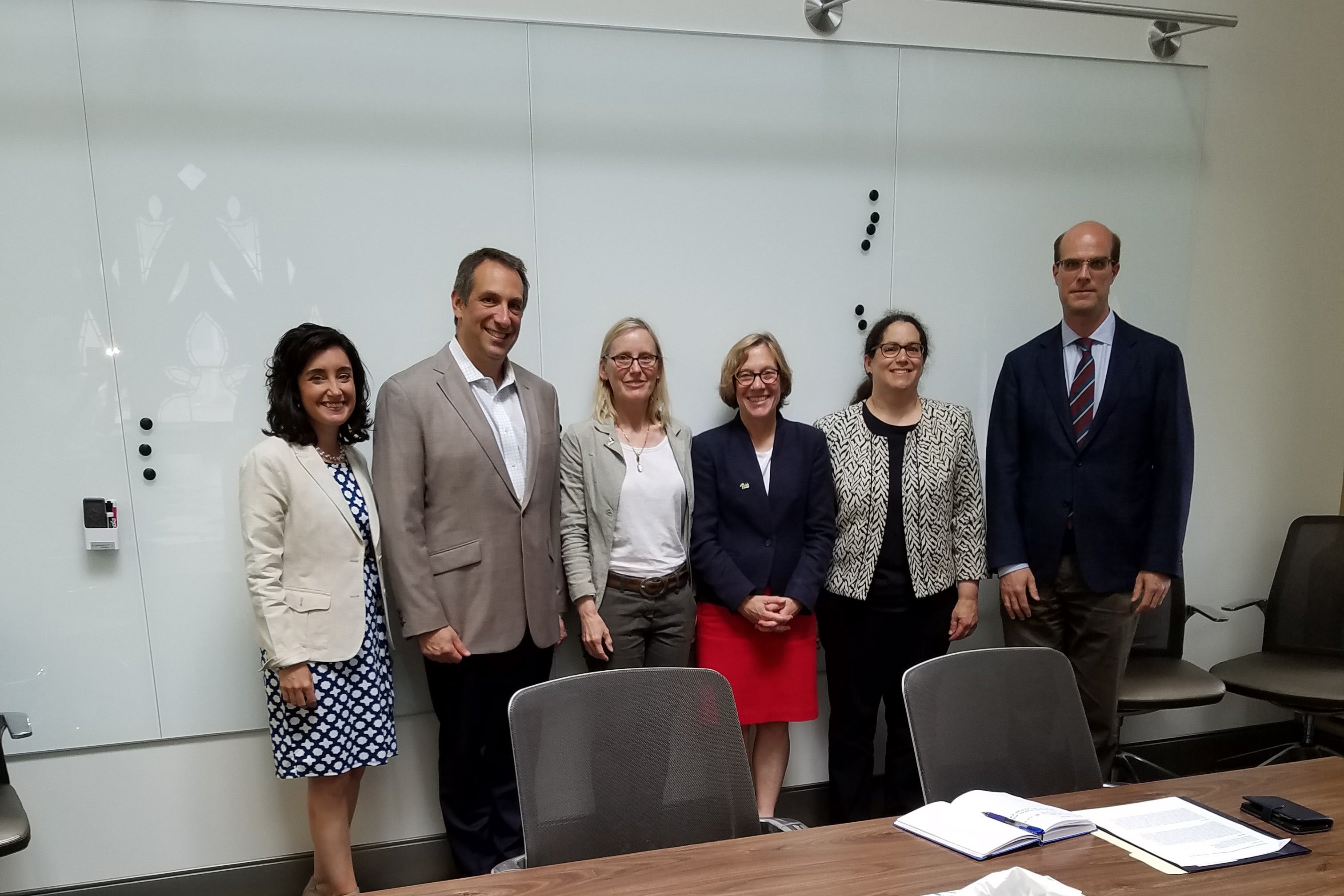 Cohort 1 with Provost Ann Cudd
Dr. Laurie J. Kirsch, Vice Provost for Faculty Affairs, Development, and Diversity, is a member of the ALN executive committee and is the University of Pittsburgh liaison to the ACC ALN program.
Executive Leadership Training (ELiTe)
ELiTe is a program developed by the Office of the Provost for chairs, associate deans, and vice presidents (hereafter referred to executives, for brevity). This program is designed to build leadership skills of participating executives and foster a deeper awareness and understanding of their roles within the larger University context.  The program was launched in 2018-2019 as a nine-month fellowship that includes mentoring, leadership training and project-based learning, and a small group of faculty participated in the pilot program. Based on the results of the pilot, and feedback from executives, the EliTe program has been revised to focus on three specific objectives: (1) Develop and strengthen core leadership skills through instruction, activities, and dialogue with senior leaders; (2) Build a cross-disciplinary community of mid-level academic leaders; and (3) Create a career pathway for academic leaders.
Executives will participate in monthly learning sessions over the course of the academic year that include formal lecture, case analyses, and dialog with senior University leaders.  Speakers will be drawn from within and outside the University.  EliTe participants will also work in small teams to analyze a dilemma or problem facing an academic unit or the University as a whole, and propose recommendations for ways to address the dilemma or problem.  EliTe participants or senior leaders may suggest project topics.
The ELiTe program is offered each academic year, with calls for nominations in late Spring.  Each EliTe cohort is limited to 24 executives. 

WIN-AL Cohort
Women IN Academic Leadership (WIN-AL)
WIN-AL is a program for full-time tenured or appointment stream mid-career women faculty who are leaders or aspiring leaders at the University of Pittsburgh. Women face unique challenges in leadership roles, which can include lack of confidence, difficulty in finding their voice, and challenges in creating a network of other women leaders. The ultimate goal of WIN-AL is to provide women with the leadership skills and practical strategies necessary to address common challenges, to advance in academia and to achieve more success in their careers.
The WIN-AL program includes all-day leadership training at an off-site location in the greater Pittsburgh area.  The training is facilitated by a professional coach, and is dynamic with presentations, exercises, team work, and self-reflection.  The training also includes a 360-type assessment, and participants are placed into small learning communities for ongoing professional development.  Following the all-day training, the learning communities meet on a regular basis for peer mentoring and continued leadership development. In addition, the Office of the Provost hosts occasional programs for WIN-AL participants throughout the academic year for mentoring, networking, and professional development.
Nominations for WIN-AL are solicited by the Office of the Provost in the Spring term.  To be most effective for those involved, each WIN-AL cohort is limited to 20 women.
The spring 2020 program has been postponed until fall 2020. Updates will be posted here.