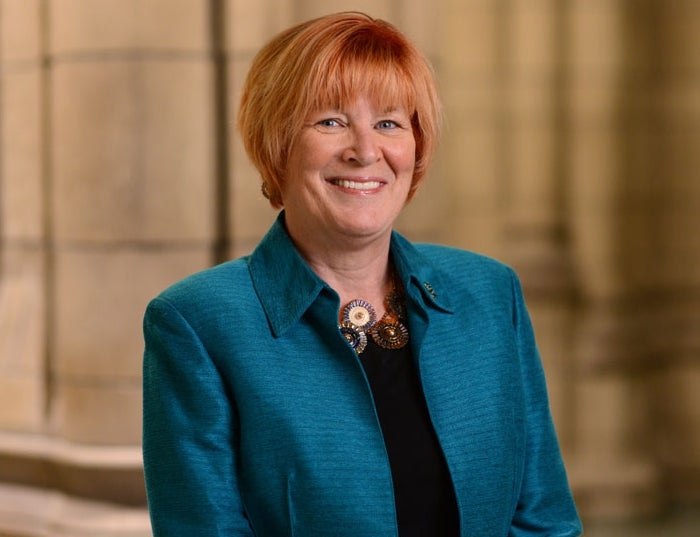 Patricia E. Beeson was elected provost and senior vice chancellor of the University of Pittsburgh in June 2010, following 27 years as a member of the faculty at the University.
Dr. Beeson earned a BS in economics from Oregon State University and a PhD in economics at the University of Oregon. She came to Pitt as a professor of economics in 1983. As a member of the economics faculty, she built a distinguished research career specializing in urban, regional, and labor economics, particularly the role that institutions of higher education play on local and regional economies. Her academic work led to administrative appointments, and she served the University as associate dean for undergraduate studies in the Dietrich School of Arts and Sciences (2001-2004), vice provost for graduate studies (2004-2005), and vice provost for graduate and undergraduate studies (2006-2010) before assuming her current position. 
Dr. Beeson is chair of the University Planning and Budgeting Committee, the Council of Deans, and the Information Technology Steering Committee, which coordinates information technology activities for the University. She is also co-chair of the University's Facilities Planning Committee, and the principal liaison to the Academic Affairs and Libraries Committee of the Board of Trustees. 
She serves on several national and local committees and boards, including the boards of the Economy League of Greater Pittsburgh, the public policy research affiliate of the Allegheny Conference on Community Development; Vibrant Pittsburgh, a local non-profit committed to promoting a more diverse workforce; and the MPC Corporation, a joint venture between Pitt and Carnegie Mellon for which she alternately serves as president and vice president. Nationally, she serves on the Executive Committee of the Council of Academic Affairs of the Association of Public and Land-grant Universities (APLU) and the APLU task force on Managing University Intellectual Property, and she has served on the APLU Voluntary System of Accountability Task Force on Core Educational Outcomes. She is also a member of the International Women's Forum.
As provost and senior vice chancellor, Dr. Beeson is the chief academic officer of the University, exercising general oversight over academic affairs on all five Pitt campuses. She works closely with Chancellor Patrick Gallagher and other members of the University's leadership team, providing the academic vision and the fiscal discipline to foster future success in an environment characterized not only by nearly limitless opportunities but also by clearly limited resources. As provost, she is responsible for initiating and promoting the University's commitment to excellence in education and research and to strong partnerships in community development, while also securing an adequate resource base and ensuring the University's operational effectiveness. In addition to leading the University's efforts to advance teaching and research, she has administrative responsibility for numerous University-wide centers and support services, student affairs, computing and technology, and the offices of research, research compliance, and technology management.
Committees
Information Technology Steering Committee
Appointments
Provost and Senior Vice Chancellor, University of Pittsburgh (August 15, 2010-Present)
Vice Provost for Graduate and Undergraduate Studies, University of Pittsburgh (May 25, 2007-August 15, 2010)
Vice Provost for Graduate Studies and Interim Vice Provost for Undergraduate Studies, University of Pittsburgh (January 1, 2006-May 24, 2007)
Vice Provost for Graduate Studies, University of Pittsburgh (May 1, 2004-December 31, 2005)
Associate Dean for Undergraduate Studies of Arts and Sciences, University of Pittsburgh (August 2001-April 2004)
Professor of Economics and Public Policy, University of Pittsburgh (2000-present)
Associate Professor of Economics, University of Pittsburgh (1990-2000)
Assistant Professor of Economics, University of Pittsburgh (1983-1990)
Professional Affiliations
American Economics Association, Regional Science Association
Association of Graduate Schools
Council of Graduate Schools
Middle States Association of College and Secondary Schools
NASULGC Council on Research Policy and Graduate Education
Education & Training
PhD, University of Oregon
Representative Publications
"The Impact of Industrial Restructuring on Earnings Inequality: the Decline of Steel Earnings in Pittsburgh," (with F. Tannery) Growth and Change: A Journal of Urban and Regional Policy, vol. 35 (1): Winter 2004.
"The Significance of Lead Water Mains in American Cities: Some Historical Evidence," (with W. Troesken) in Dora L. Costa editor, Health and Labor Force Participation Over the Life Cycle. Chicago: University of Chicago Press, 2003, pp.181-202.
"Divergence" (with D. DeJong), Contributions to Macroeconomics, 2002, vol. 2 (1).
"Population Growth in U.S. Counties, 1840-1990," (with D. DeJong and W. Troesken), Urban Economics and Regional Science, vol. 31 (6), November 2001, pp. 669-999.
"Industrial Change and Wage Inequality: Evidence from the Steel Industry," (with K. Shaw and L. Shore-Sheppard), Industrial and Labor Relations Review, vol. 54, March 2001, pp. 466-483.
"Neighborhood Information and Home Mortgage Lending," (with R. Avery and M. Sniderman), Journal of Urban Economics, vol. 45, February 1999, pp. 287-310.